"Yeah you look pretty weak Object Terror (second reboot)." - Coffee Cup, "Kings of Parkour"
This article or section is a stub. You can help Terrapedia by adding in canon information!
This reboot is the second one of the Object Terror series. It was more mature than the other two eras (albeit the first reboot having blood in the second episode).
Episodes
Movies
Bars and Beer (upcoming)
Characters
This is the list of all main characters of the Object Terror second reboot. For every character in the series ever, see the list of Object Terror characters.
Contestants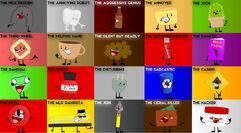 Legend:
Names with normal text are character who are currently unaffected and still competing.
Names in italics are characters who are currently competing, though they were affected by Smore.
Striked out names are characters that have been eliminated, and are no longer competing.
Staff
Controversy/Criticism
"Seriously, why can't we just have simple challenges? Remember P to the Fourth in episode 3? That was fun, right?" - Flash Drive, "Kiloto the Minoto" Chapter 1

The following article or section contains controversy, which was given by viewers of the show and/or other ShallotHare shows/content. Read at your own risk.
While the show is running, people do criticize Object Terror, even stating that is one of the worst object shows out there. Many hate it for not being child-friendly, due to the gore and swearing. Other reasons for people hating the show are the times when characters' screams can clip the microphone (Printer for example), musical numbers, and the lackluster animation in the first two episodes. Object Terror did improve as episodes continue to air, but it still gets the hate by some object show community members. The reason why the show was cancelled in the first place was because Brain Hazen himself left the object shows community.