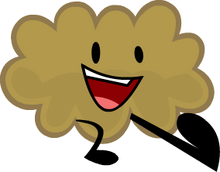 Fart, labeled The Silent, but Deadly, is a male Contestant in all three versions of Object Terror.
Appearance
Fart is a brown cloud with no arms.
Personality
Fart is seen as the playful yet unintelligent character, and likes to play Football with Road Sign.
Powers and Abilities
Duplication
In Kings of Parkour, Fart, wanting to play Football with Road Sign, ends up duplicating himself instead. The original Fart does not receive a number when cloned, but as of right now, he can only clone himself four times.
Coverage
Please help edit this coverage it's too blank
Trivia
Fart cannot bleed, since he lacks internal organs.
Gallery (W.I.P.)
Assets
Poses